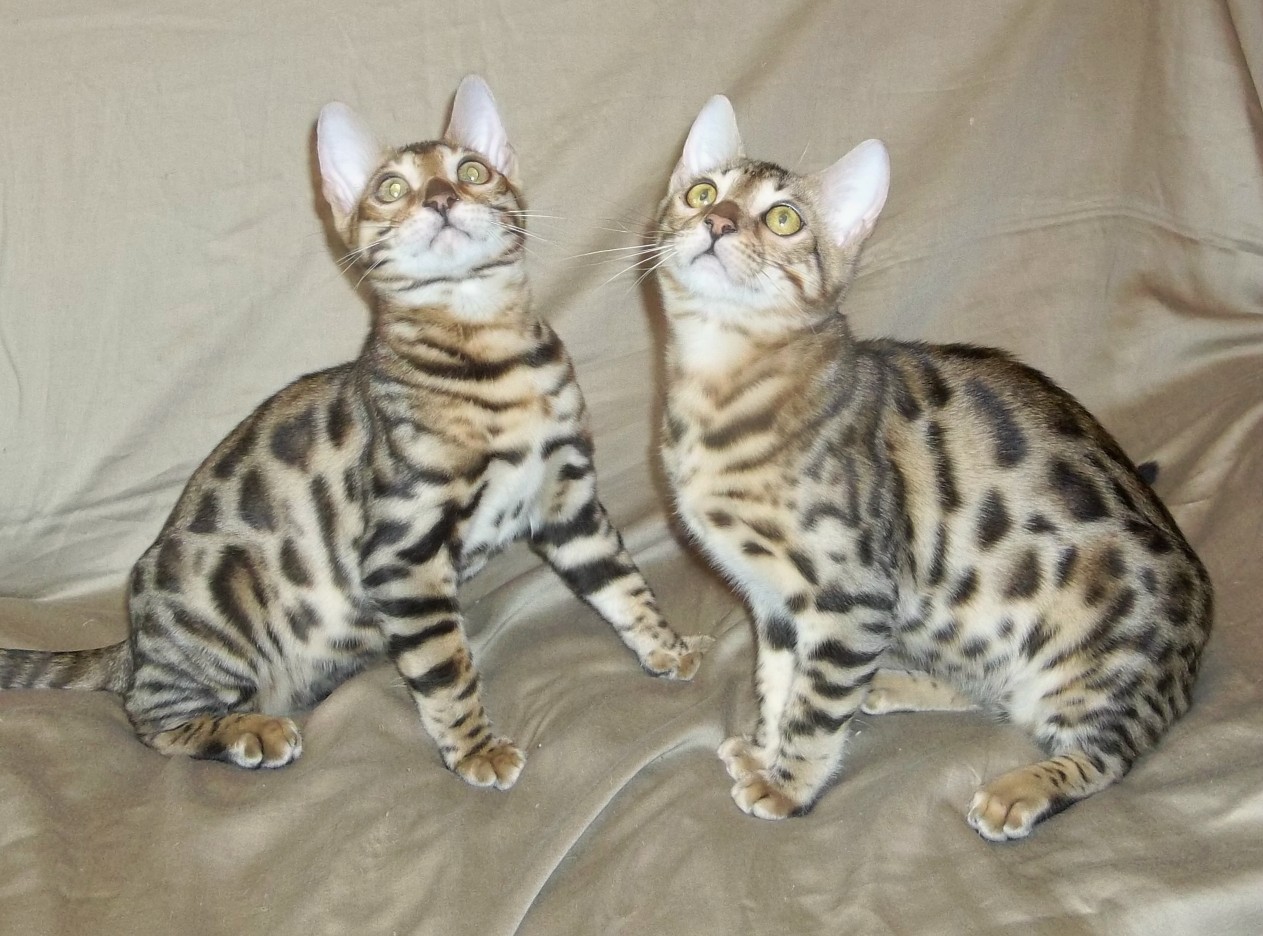 Interested in one of our Bengals?
(Check out the links at the bottom of this page)
What you'll need to know:
Kittens will generally be ready for their new homes at 12 weeks of age or later. At this time, they will have well established eating and litter box habits, be fully weaned, have been vaccinated at least twice, and be mentally and physically ready for the stress of changing to their new home. Contrary to public understanding, kittens (even your normal house cats) are not ready to leave their mom at 6 weeks!!

Kittens come with their vaccinations current for the current age, a health record, microchip, and a health guarantee & contract. Pet kittens are spayed or neutered before leaving. For a sample copy of our kitten contract & health guarantee please email us: lileopardcat@earthlink.net

A deposit will hold an available "underage" kitten for you until it is ready to be picked up. There is a $300 deposit for pet kittens, and a $500 deposit for breeder/show kittens. (Breeder kittens are only sold to approved established catteries.) Deposits are non refundable, but may be transferred to another available kitten within one year of receipt.

Please visit our litter pages to see who is available at this time, our website is updated frequently so if a kitten says available it probably is!

See a kitten you'd like? The next step:

Send us an e-mail, text (fastest response), or give us a call (please leave a message) and let us know who you are interested in. If you are looking for a particular traits or a certain personality, I would be happy to arrange a match for you. Tell us a few things about yourself, family, pet experience and/or current pets. If you live a long distance away, we may need to make sure shipping arrangements can be made. Once we have gotten back to you, the next step will be to leave a deposit (if the kitten is too young to leave) or make a full payment if the kitten is ready! Your fuzzy bundle of joy will soon be coming home!
For information on pricing and shipping go to the "more kitten info" page.



Use the button below to make a deposit, or hold a kitten!
Please add $3 per $100 when paying by paypal to cover their fees...

Bengal Kitten fuzzies/rosetting development
Bengal kittens go through a "fuzzy stage" beginning as early as 4-6 weeks and lasting until they are 12 weeks to even 5 months. During this time their coat is "camouflaged" in order to help them survive had they been born in the wild. Below is an example of the Bengal fuzzies: before, during, and after.
You can also see how their rosetting develops from spots when they are infants, to beautiful wild looking rosettes as older kittens/adults. *Kittens born from non-rosetted (spotted) parents are not likely to rosette.*


| Kitten Info & Pricing | Upcoming Litters | Winter's Litter | Available Adults | Past Kittens |

---
| Return Home | Our Kittens | Our Queens | Our Studs | About Us | About Bengals | Contact Us |